This past weekend was the OAC Championships in Berea at Wallace Lake Park. Hosting a meet is always a huge task for the staff and we wanted to make sure we created a great environment and atmosphere for the student athletes. I think we accomplished that. We created a 2k loop that was very spectator friendly. We had music playing an announcer reading off scores as the race was going on. There was a great electricity in the air throughout the whole day.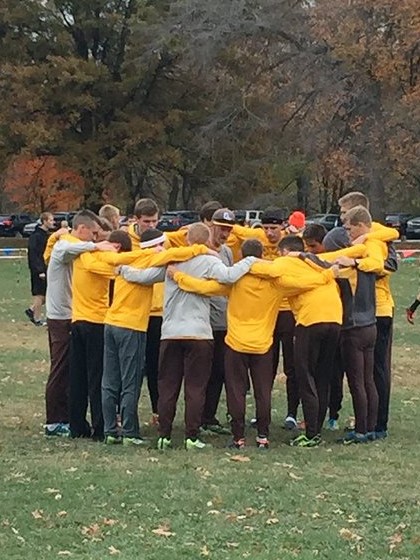 As for the race, Saturday was a good day for the Brennan's. Sophomore
Brian Brennan
(Akron/Walsh Jesuit) and younger sister and freshman standout
Kelly Brennan
(Akron/Walsh Jesuit) led the teams to fifth and sixth place finish, respectively.
Brian Brennan
, earned his second straight All-OAC honor, by finishing third of 130 runners in 25:14.5. Brian ran a heck of a race. He was the only person to make the move with the eventual winner about 4k into the race. He laid in on the line and went for the win. His low score definitely helped the team in a big way.
In addition, sophomore
Evan Milovich
(Westlake) placed 28th with a time 26:41.3. This was a big time race for Evan, we were hoping that he would finish around 30
th
place, so for a sophomore to step up and run tough at the conference championship was huge. I am excited to see what he can do at the Regional championships. Our third runner in was senior All-Ohio runner
Greg Blevins
(Mentor) finished 31st in a time of 26:46.1. Greg has done a great job of leading this team as a 5
th
year senior and while I know he didn't run the race he was hoping for he hung in there and battled some of the Heidelberg guys throughout the race. Freshman
Creighton Jensen
(Sheffield Lake/Brookside) was 53rd in a time of 27:26.5. He continues to impress me with his competitiveness. He followed up a spectacular race at Oberlin with an impressive run. Rounding out the team scorers was sophomore
Brady Jeffers
(South Amherst/Firelands), as he placed 56th in a time of 27:32.6. Brady has come a long ways, he is gaining more and more confidence in his ability to run 8k cross country and has bought into the fact that the better at cross country he gets the more it will help him on the track.
Kelly Brennan
, who earns her first All-OAC accolade, led the women's team as she finished fourth of 136 runners in a 22:28.9. Kelly ran a gutsy race. She was up with the leader the whole race and gave herself a chance to win the race. Even though she came up a little short, the future is bright and she should have shot to qualify for the national championships in two weeks in Terre Haute.
In addition, freshman
Hannah Fredriksen
(Hamburg, N.Y.) placed 28th in a time of 23:37.1. She ran another great race competing hard against the schools we were aiming to beat. Sophomore
Maeve Christie
(Lakewood) came in 36th place in a time of 24:15.9. Maeve bounced back from a really tough race at Oberlin to beat out a few key girls the last 600 meters. Sophomore
Hannah Kiraly
(Lakewood) was 81st in a time of 25:33.8, which was a lifetime best, she has proven that she is a competitor and with some consistent training she could be a huge help in the future. Rounding out the team scoring was junior
Alivia Stephan
(Carey) as she finished in 109th place in a time of 26:55.0. Alivia has done a great job of stepping up and taking on the role of 5
th
runner a few times this year when we really needed her.
This team has come a long ways since August. Last year the women were 9
th
and the men have finished 8
th
the previous 3 years. In the OAC pre-season coaches polls both teams were picked 7
th
. When we arrive on campus and headed to Camp Wanake for camp I would say that we were the only ones that thought we could finish higher.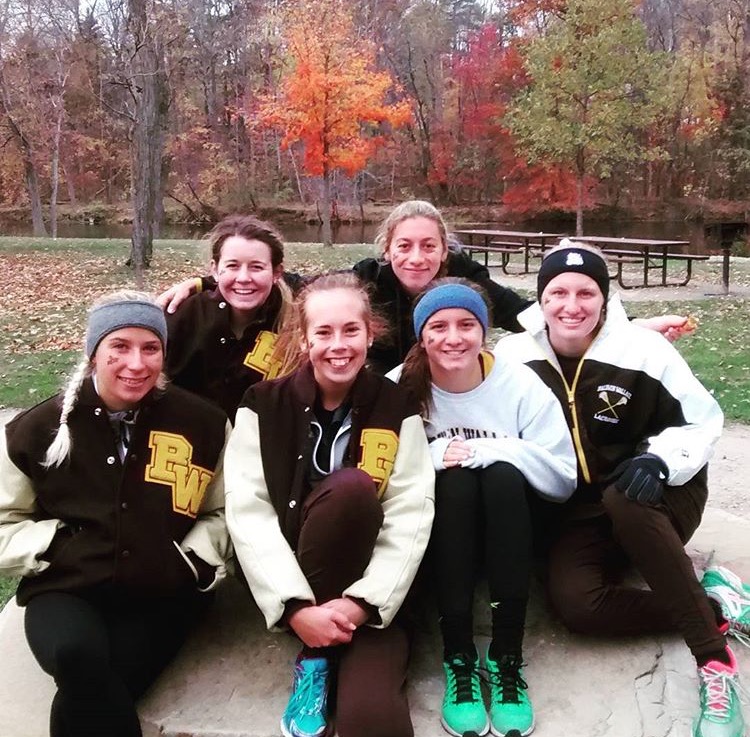 Our group has put in a lot of work this fall. We have embraced a culture of personal success, working hard each day and enjoying the process of grinding day in and day out. There are no secrets to getting better, you simply have to put in the work and challenge yourself. All but one of our kids ran a life time best this year, but more importantly we learned how to compete hard, race consistently and be comfortable being uncomfortable. I am excited for the future with this group and the people we will have join us next year. It is going to be a great time to be a BW Yellow Jacket!
We are back in action on Saturday, November 14 in Terre Haute Indiana for the NCAA Division III Great Lake Regional Championships at 12:30 p.m. We will be taking a full men's team and Kelly from the girl's side. We think we have a shot to have a few kids qualify on to the national championships.